5 sets of chemical flaking machine, in production by Mingke.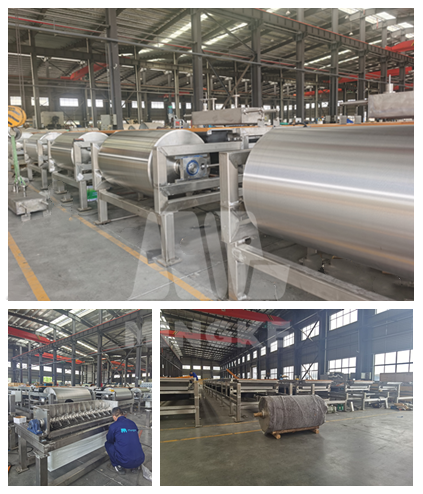 Applications of Belt Pastillator (Single Belt Pastillator):
Paraffin, sulfur, chloroacetic acid, PVC adhesive, PVC stabilizer, epoxy resin, ester, fatty acid, fatty amine, fatty ester, stearate, fertilizer, filler wax, fungicide, herbicide, hot melt adhesive ,refined products, filter residue, rubber, rubber chemicals, sorbitol, stabilizers, stearates, stearic acid, synthetic food adhesives, synthetic catalysts, bitumen tar, surfactants, elixirs, urea, Vegetable oil, vegetable wax, mixed wax, wax, zinc nitrate, zinc stearate, acid, anhydrite, additive, adhesive, agrochemical, AKD-wax, aluminum nitrate, ammonium phosphate, antioxidant, anti-fermentation, asphalt Alkene, thermoplastic base, beeswax, bisphenol A, calcium chloride, caprolactam, catalyst, cobalt stearate, cosmetics, hydrocarbon resin, industrial chemistry, medium, maleic anhydride, crystal wax, sulfur product, nickel-catalyst, Insecticides, PE-wax, medical media, photochemicals, asphalt, polyester, polyethylene glycol, polyethylene wax, polypropylene, polyurethane, others.
Characteristics of Mingke Belts for Chemical Flaking Line:
●  Great tensile/yield/fatigue strengths
●  Hard & smooth surface
●  Excellent flatness and straightness
●  Good cooling efficiency
●  Outstanding wear resistance
●  Good corrosion resistance
●  Not easy to be deformed under high temperature
STEEL BELTS FOR COOLING PASTILLATOR | CHEMICAL INDUSTRY
Steel belt cooling pastillator is a kind of melt granulation process equipment. Molten materials drop evenly onto the steel belt which is moving at a uniform speed. Due to cold water spraying onto the back side of the belt, the molten materials are cooled down & solidified quickly and finally achieve the purpose of pastillating.
Mingke Stainless Steel Belts perform good in corrosion resistance, so it is widely applied to chemical industry for flaking & pastillating machinery to produce chemical flakes and granules as cooling conveyor.
---
Post time: Apr-21-2022
Previous: Delivery Case: 2 piece of MINGKE MT1650 Steel Belts for Baoyuan Wood Co. Have Been Put into Production Smoothly